14 juillet 2006
"Easyclay" is the English translation of a French blog called "modelagefacile". Using the Internet, we were unable to find a translation in the ceramics dictionary and we asked our Australian and American friends for help in the translation of our texts. It is a rather important work which is added to the drafting of our texts.
We will publish two or three exercises in English. After completion of these projects, please let us know if you want us to continue with more projects. Please contact us using the "Commentaires"(in English or French) below. We will make our decision based on your comments.
Create a decorative "picture"
in less than one hour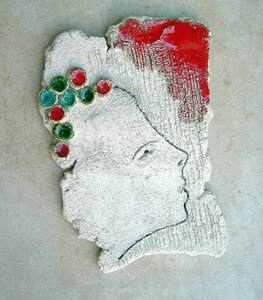 1. Cut off a piece of clay as large as your two fists (for cutting, you can use a piece of wire or a knife).
2. Knead the clay thoroughly to avoid bubbles of air.
3. Flatten the clay with a rolling pin on an oily cloth. If small blisters appear, pop them with a pin and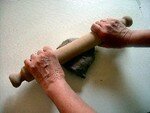 smooth again the clay with the rolling pin.
Note - When working with a larger piece or a bigger surface, it is easier to put the roller on two guides ( not required for this exercise ).

4. Cut out an irregular shape from your slab. The edges should have a ragged look. You can make an outline of your design with a pastry wheel.Cut on the dotted outline, so the
edges are irregular.
5. On a sheet of paper, draw a simple design which you will use as a model ( flower, animal, character etc ). If you do not have any ideas, look for some basic drawings in a children's book. Do not over complicate.
6. Engrave your drawing on the slab with a toothpick . Smooth the inside of the drawing and to give it a contrast, you can scratch the background with a fork. Your design will stand out more.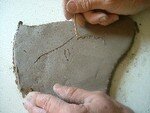 7.Add some details to finish your work. For the sample in the photograph, I created the hair by sticking pellets of clay onto the slab.
8. Let the slab dry on a wooden board covered with newspaper. To prevent edges from rising, cover them with a piece of newspaper and place a heavy item on them (ashtray, weight, books etc).
Make sure it is not too heavy to leave an imprint on your artwork.
Fire it at 980C°. You will get a "biscuit".
Good work!!!
---
Commentaires sur Slab building